Business Development
The GFC has been and gone, but whats next?
Australia seems to be in a different business cycle to the rest of the world,
It may be now that cash flow is being impacted!
How to improve your cash flow?
Yes, help is available !
Using a specially designed software program, I can quickly provide you with a means to improve your cash flow of your business. This review will provide;
A business "snapshot" report,
The positive aspects of your business as well as those which need immediate attention,
The financial drivers or influencers of your business performance,
Improve your future with a "What if Analysis"; 3 sample analysis showing the effects of;
$20,000 improvement in cash flow over the next 12 months,
10% improvement in annual profit,
25% increase in turnover,
You will be surprised by the results of this "what if analysis".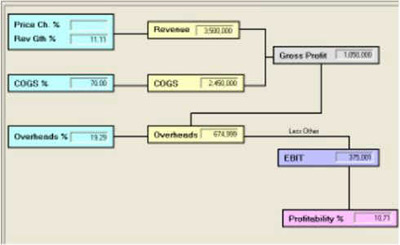 Business Performance reporting service;
Tired of meaningless financial reports???
If you have been using your accounting package for sometime, I'm sure that you have benefited from an efficient and easy to use system.
So what's the next step?
Well, one of the next situations may apply to you;
You may printout your financial reports, but do you really understand them?
Your tax accountant may provide you with annual reports, but does not explain what they mean.
You would like to improve your business but do not how to go about it or which part needs improving first.
Your business is growing fast and do not have the in-house financial management knowledge or an experienced Accountant working for you.
Financial Management Assistance;
1. I can carry out a health check of your accounting system and recommend any improvements that may be necessary to procedures and data processing as well as eliminate unnecessary functions.
2. I can interpret your financial figures in plain English, build a plan of business growth, set direction and goals for the future.
3.Provide a snapshot view of your business performance.
4. Provide experienced Accounting advice
Business Potential
What is your business potential?
Coming Soon: the 3 Ways Dashboard to catapult your sales, enquire now!
Would you like assistance in improving your business potential?
Click here to request the Business Potential assistance 

 Business Learning Centre – for training you can rely on!
My training & services come with a 100% Money Back Satisfaction Guarantee!